Bed Bug Control
The bed bug has a famous history as a bloodsucker and is named due to its tendency to feed on a bed's occupants at night. The bed bug primarily attacks humans but can feed on any warm blooded animal such as birds, mice, and pets. The bed bug is found worldwide and probably came to the US from Europe in the 17th century.
Identification
Adults are just under a 1/4″ long and are relatively flat, nearly as wide as long, and oval in shape compared to most other insects. The color is brown to reddish brown. The body may have short golden hairs and will exude a "sickening sweet" smell from glands on its body. There are many types of bed bugs and related insects.
Reproduction and Biting
Female bed bugs can lay over 500 eggs over a lifetime and each bed bug will molt or shed its shell five times as it grows and a blood meal is required for each molt. If blood meals become scarce, bed bugs can slow their life process until a blood meal source is found. The saliva of the bed bug may cause a swelling on most people when they are bitten but they do not leave a wound. Swelling may include redness in some sensitive people.
Habits
The bed bug is able to crawl into very small crevices in and around the human environment. These include between mattresses, seams in bed linens, upholstery, behind wood trim, inside electrical boxes, in floors, behind wallpaper, and in any other area near a blood meal that will hide a very thin insect. Note, however, that bed bugs will move distances at night for a blood meal which is why infestations occur in beds commonly, so merely washing bed linens or other infested areas might not eliminate the source. Bed bugs are also excellent at relocating by hitching rides in luggage, boxes, shoes, and any other mobile material.
An infestation of bed bugs is NOT evidence of unclean or unsanitary living areas. World class hotels have reported bed bug infestation in recent years perhaps due to the increased domestic and international mobility of society in the past few decades.
Commonly, the first sign of bed bug infestation is the appearance of small brownish or reddish dots on bed linens. These are fecal spots or droppings on the surface of linens from these bugs. Occupants may also notice swelling where they have been bitten.
Control
The first step of control is to have a professional thoroughly inspect the area. This inspection is required to determine the places where the bed bugs are living. Once the inspection is complete, the pest control professional will determine the proper type of control technique, then treat the area and most likely return for a follow up inspection.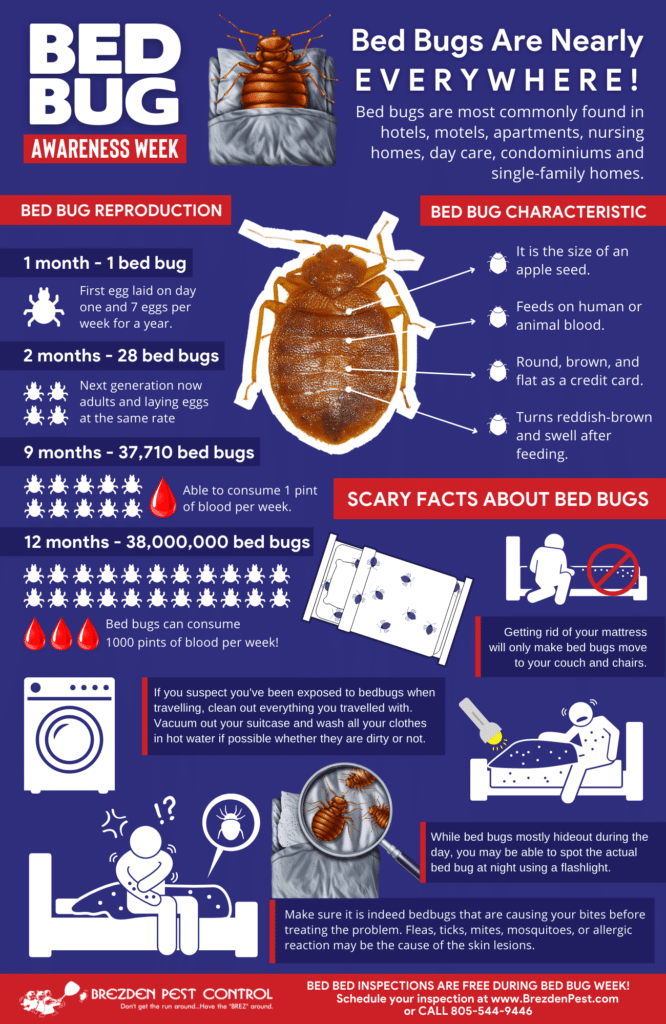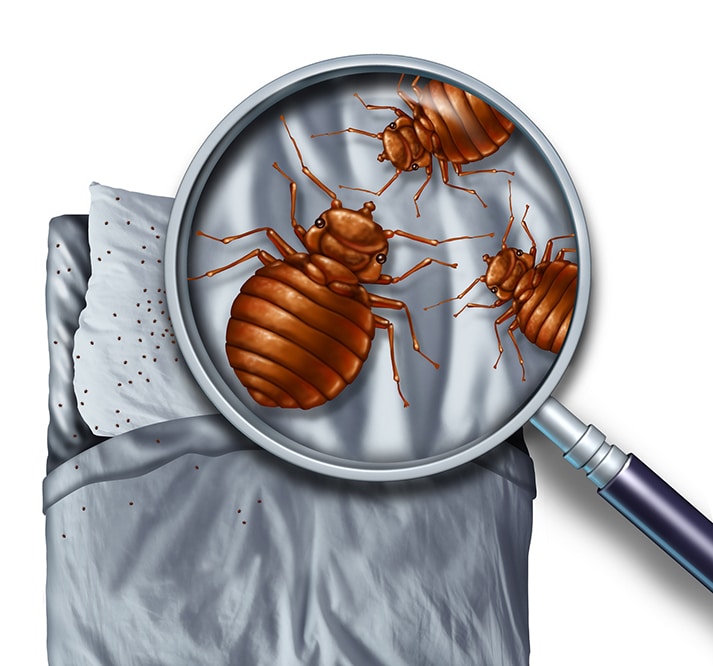 If it bugs you, it bugs us!