Termites
Latin: Isoptera
Common Locations:
Depending on the type:
Dampwood prefer moist environments or locations with water leaks. Drywood live in undamaged dry wood locations of the house.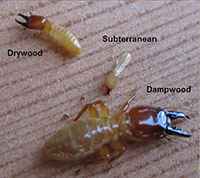 What are Termites?
There are over 2,000 different species of termites in the world, and the United States is home to about 40 of them. Some have distinct features but commonly look similar. Common termites are Dampwood termites, Drywood termites and Subterranean termites.
Termites arrange themselves into three separate caste systems within their colonies. Each caste has specific features that help its role. Workers are the smallest of the caste, and are soft bodied. They tend to look like larvae. Soldiers have harder heads and are often dark with large jaws to protect the colonies. Fully mature Alates have wings and and hard bodies that can be dark in color. Their prominent wings are in two sets of weal length and appear to have two body segments, the abdomen being straight.
How do Termites get in my home?
Termites often migrate into homes from former colonies by finding a crack or caps in piping and wiring to get inside. Exterior wooden structures are also a common place termites will relocate from a former colony, this includes firewood against the house, porches and decks or trees that are against the house.
In the spring, swarming termites can be seen near light sources near and at the house. After mating they will move to form their own colony in other location spreading termites to many locations.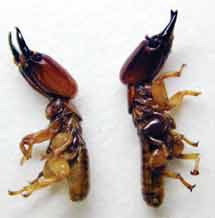 How do I identify Termites?
Termites measure between ¼ and ½ of an inch long with soft bodies and straight antennae. Their colors can range from white and light brown and may appear lighter or darker. Flying termites have two pairs of prominent wings. There are differences in the size and color between species.
You may find piles of sawdust, mud tubes or the shed wings of termites before you see a termite. If you suspect a termite colony has formed, you may also notice the appearance of water damaged appearing wood or sagging wooden floors or ceilings. If you tap wood location that should be solid yet sounds hollow, this may mean termites have eaten out or are living behind the surface.
Some termites build their homes in soil and will build elaborate mud pipes to access their food points.
How do I get rid of Termites?
These pests eat cellulose that is found in wood and can destroy wall furniture and other wooden materials of the house. Old and unkempt homes may have sagging floors or ceilings.
Termites can be devastating to your home and property value. They can thrive when undetected on cellulose-based plant materials and cause structural damage to your home.
To eliminate the risk of developing a termite infestation, remove moisture problems; like leaking faucets or standing water on roofs. Make sure to remove termite foods; like firewood, lumber, debris, and don't let wood parts of your home on your home contact soil.
If you suspect a termite infestation, it is important that you contact a local pest control service for proper termite inspection.

What is Subterranean Termite Treatment?
Subterranean termite treatment may include drilling (Drill and Treat) through a concrete slab and injection of a termiticide onto the ground below. This treatment carries a warranty of 2 or 5 years. Another subterranean termite treatment method is called "Trench and Treat." By digging a trench approximately 6″ wide by 6″ deep against the exterior foundation or around posts or columns, the Technician will flood the trench with the termiticide. Once completed the trench is filled with dirt. This treatment carries a warranty of 2 or 5 years.
What is Exterra Termite Interception and Baiting System?
Installing the Exterra Termite Interception and Baiting System is mainly a preventative approach. Subterranean termites feed on the material in the bait stations and return to their nest, contaminating the colony. This process will eliminate the termite colony before they can do damage to your property.
Bait stations are strategically placed around the exterior of the structure(s). Our trained Technician returns every three months to monitor and replenish the bait stations. With this treatment, your property is under warranty as long as you are on service.

How much do Termite repairs cost?
Brezden Pest Control offers competitive pricing for your termite repairs. Each project requires a custom quote. We employ our own in-house, fully-licensed Termite Repair Crew. All work is guaranteed in writing and completed to your satisfaction. Termite repairs consist of complete or partial removal and replacement of wood members damaged by termites or fungi. Please see our Termite Control Testimonials to hear what our customers say about our termite control service.