Did you know that termites are responsible for the majority of damage to structural buildings? Even though they are beneficial for the environment because of their ability to decompose tough plant fibers, these pests are known for their disastrous ability to eat away your home equity. They also spend their lives making sure that other termites in the colony are always clean.
According to the Department of Housing and Urban Development, people who live in California and Hawaii have a higher probability of experiencing a termite infestation. The main cause of this high probability is the weather conditions in these parts of the country. Termite species are more prone to be found in areas with mild to moderate temperature conditions.
How Do You Know if You Have Termites?
If you are having trouble with determining if you have termites, you are not the only one. Knowing how to identify if your home has these pests is the first step towards preventing a possible infestation and saving money. Generally, homeowners insurance does not cover damage that is caused by termites. To avoid any problems, you should look out for the following signs.
Assess your wood surfaces for any long grooves that are caused by these pests chewing through wood. Blisters that cause your wood to appear as if it has water damage are another indicator. Damaged wood is dangerous because it causes structural collapse. If you find hollowed wood groves that resemble a honeycomb interior, then it is most likely that termites have found a haven in your home.
Termites discard their wings near home access points such as closed windows or doors. These wings can be similar to those of ants, however, size is the determining factor. Ants have wings of two different sizes. If the wings are the same size, then you need to call in the exterminator to evacuate those unwanted house guests.
In subterranean areas, termites nest underground because they need certain temperature and humidity levels for survival. They forage up through tunnels that are mud tubes to look for food, which is a code word for your home. When you discover these mud tubes, you may need to consider relocating or calling pest control.
Dry wood termites live inside the wood. They eat the same wood that they are nesting in. But there's more. They also excrete this very same wood. So, if you happen to notice mounds of pellets that resemble coffee grounds, then you need to call in the professionals.
Keep in mind that you may not always be able to identify signs of a presence of termites in your home. As a result, the damage may go unnoticed for a long time until significant structural damage has occurred. But this doesn't mean that you shouldn't take preventative measures early on.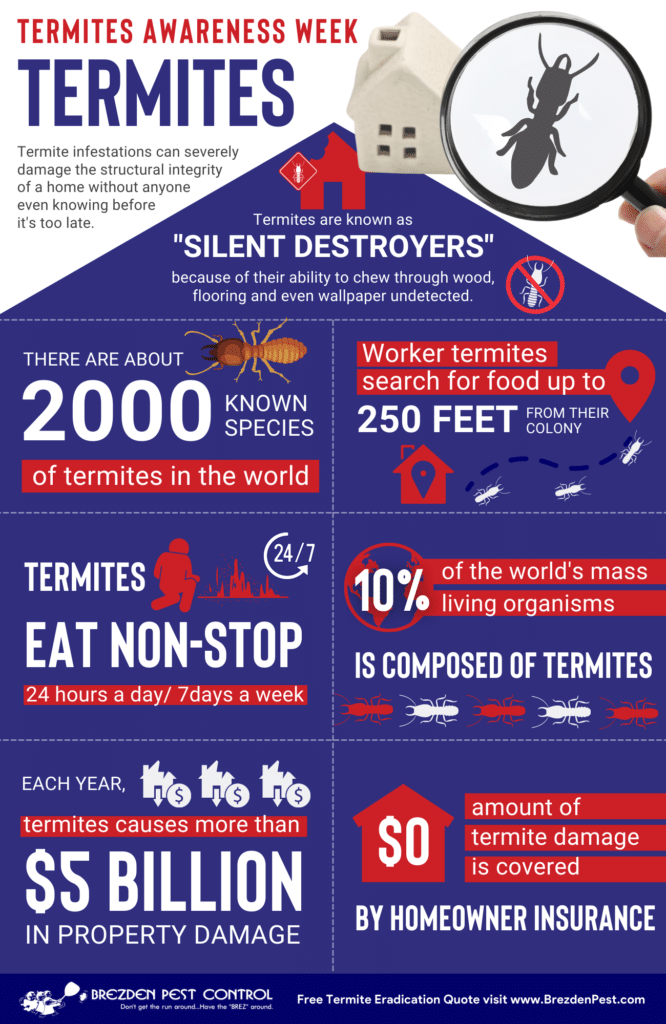 How do you Prevent a Termite Infestation?
If you want to reduce the risk of a termite infestation and save yourself money on repairing the structural damage, the following preventative measures can be useful.
The best way to get rid of an unwanted house guests is by making them feel uncomfortable. Termites love moisture. If the soil that is close to the foundation is moist, then they are likely to infest it. The aim should be to find a functional way to divert water from the soil near the foundation. You should incorporate gutters, repair any leaking taps and repair any corroded pipes that can cause poor drainage of water. Do not provide them with their ideal environment, no matter what.
Invest in Adequate Ventilation
Moisture is a conducive condition for your foundation. Not only does it invite termites, but it also causes wood-destroying fungus to produce. If your home has any crawl spaces underneath, you need proper ventilation. Moreover, an above-average vapor barrier can minimize the effects of moisture when it reaches the floor joists or subfloor. Moisture is also responsible for the pungent odor that can penetrate a house in certain weather conditions. If you notice excessive amounts of moisture under your crawl space contact your local restoration contractor.
Decluttering your house can help minimize spaces that these pests can call home. Sometimes pest control measures need to be met with proactive practices. If you have called pest control, you also need to clear out things in your home and not move infested furniture anywhere else.
Borate is a commonly used termite repellent. It can be sprayed onto wood surfaces before the priming and painting processes. It is a strong substance that absorbs into the wood and can potentially repel termites for up to a decade.
What Do You Do When You Have an Infestation?
The fastest way to get rid of termites is by bringing in professionals. However, if you do not have the financial resources, and you need some fast yet efficient ways to eradicate an infestation, the following natural remedies are almost as effective.
If you live in California you are granted permission to purchase professional-level products to kill termites. Termiticides can be applied to your home's perimeter and create a barrier. They are unable to detect it, so they don't even attempt to avoid it. The termiticide spreads like a familiar virus and causes a pandemic in the termite colonies.
If you spot any signs of termites inside your home, you can use direct chemicals to shoot them into crevices, cracks, and voids. Odorless foam is the best alternative because it evaporates and leaves a residue that poisons them as soon as they come into contact with it.
You can use termite baits that can be installed on the perimeter of the foundation. This is ideal to get rid of termites that forage through tunnels. The baits have slow-acting toxins so that an infected termite can go back and infect the rest of its colony. This is ideal for ensuring that the poison spreads to all of their colonies.
If you suspect that your home has termites, you should not be embarrassed because they are a common occurrence in most parts of the United States, particularly in California. Knowing the signs is important but knowing who to call can save you time and money. So, don't let the problem persist for longer than it should.
We're offering free termite inspections during Termite Week, March 7-13th. Now is a good time to take action if you suspect a termite infestation. Call 800-464-9446 and we'll send an experienced exterminator to your home or business to evaluate your infestation.
Brezden Pest Control
Corporate Office
3261 South Higuera St, Suite 100
San Luis Obispo, CA 93401
Phone: 805-544-9446
Fax: (805) 544-2807
Email: web@brezdenpest.com
https://www.brezdenpest.com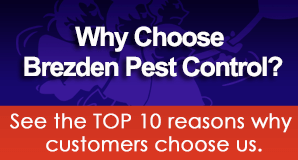 About Brezden Pest Control: Brezden Pest Control provides rodent control, bird control, ant control, and termite treatment services in the San Luis Obispo area. Keep your home and business pest-free with commercial pest control and home pest control services. "Like" the Facebook page to receive information on termite treatment. Call 1-800-464-9446 today for a local pest control estimate. Visit the website to download a copy of the "Top 10 Reasons Customers Choose Brezden Pest Control."