Dear Friends,

Mosquitoes are a nuisance and can be dangerous.

A resident in San Luis Obispo County has died from complications of West Nile virus, according to the county Public Health Department.

San Luis Obispo County is home to many mosquito species, including the Aedes aegypti and Culex quinquefasciatus. These two mosquitoes are known for transmitting diseases such as Zika virus, West Nile Virus, and Eastern Equine Encephalitis.
Did you know that the tiny mosquito is considered by many to be the deadliest insect in the world? These bad bugs kill up to a million or more people globally per year by spreading diseases.  

Let's take the battle to them!

Brezden Pest Control is here to help you take back your yard, home, or business from these pesky, and sometimes lethal insects.  

We offer mosquito control in San Luis Obispo for residential homes and commercial properties including restaurants, hotels, schools, hospitals and more!  Our mosquito control plans will protect you from these harmful pests year-round.

With our service packages starting at $55 per month*, there's no better time than now to get started with Brezden Pest Control! Contact us today to learn more about how we can help keep your family safe this summer season!  *prices may vary depending on location and size of property.

Call us today at (805) 544-9446 to schedule an appointment.  Our team of experts will work with you to find the best solution for your needs. 
John Brezden, Founder
Brezden Pest Control
Corporate Office
3261 South Higuera St, Suite 100
San Luis Obispo, CA 93401
Phone: 805-544-9446
Fax: (805) 544-2807
Email: web@brezdenpest.com
https://www.brezdenpest.com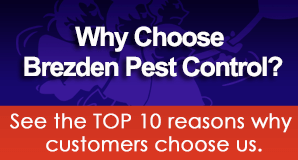 About Brezden Pest Control: Brezden Pest Control provides bed bug control, rodent control, bird control, ant control, and termite treatment services in the San Luis Obispo area. Keep your home and business pest-free with commercial pest control and home pest control services. "Like" the Facebook page to receive information on termite treatment. Call 805-544-9446 today for a local pest control estimate. Visit the website to download a copy of the "Top 10 Reasons Customers Choose Brezden