Dear Readers,
Why was the ant confused at Thanksgiving?
…because all his uncles were ants!
It's a social time of year, especially for ants and cockroaches!
Humans love socializing at this time of year, getting together with family and friends at Thanksgiving, Hanukkah, Kwanzaa, Christmas and New Year's Eve to have fun. You might not know there are other "parties" going on in your home, with sociable pests like ants and cockroaches. Seeing one crawling through your kitchen before a get-together is enough to put a damper on even the most festive of occasions.
Our local pest control company can help get rid of these unwanted guests so you can spend time with people you do want in your home.
Brezden is a family-owned professional pest control business that has protected local homes and businesses since 1980, so we know what it takes to keep an area pest-free. Our pest control specialists are experienced in treating and eliminating all forms of pest infestations, but here is one product we have found to be especially helpful in dealing with those pesky ants and cockroaches.
Tempers the Social Instincts of Ants and Cockroaches with Alpine® WSG
In 2019, Brezden Pest Control will celebrate our 39th year of providing outstanding home pest control services in the San Luis Obispo area. One product we often use to temper the social instincts of annoying ants and cockroaches is Alpine® WSG. Here are just a few of the reasons we like this product:
Alpine® WSG Water Soluble Granule Insecticide
■ Alpine® WSG Water Soluble Granule is a non-repellent insecticide that may be used inside or outside killing a multitude of insects, including beg bugs, ants, fleas, house flies and german roaches.
■ As a reduced risk pesticide, it is safe to use around children and pets if you follow the label.
■ It can be used indoors for flea control (e.g.rugs, pet beds, floors), attics, eaves and soffits, exterior hard surfaces(e.g. driveways and sidewalks), full exterior side of buildings, broadcast interior treatments and outside in yards for fleas and ants.
■ Alpine® WSG can be used for spot and/or crack and crevice applications in places such as around doors, window frames, under sinks, around pipes and other areas where ants trail or nest.
■ Food handling: Can be safely applied while kitchen is in operation.
■ Interval restrictions: Unlike other solutions, Alpine® WSG has no interval restrictions that may create limitations with cleaning times.
■ It is safe for use around animals, if used as directed. They should be kept out of the area during the treatment, but it is safe to let them return once the product has dried completely (usually about an hour or so).
■ Low odor and non-staining.
Trust the professionals at Brezden Pest Control to safely apply Alpine® WSG around your home or office, and you won't have to worry any longer about ants and cockroaches. If your home has a pest infestation, don't wait – call Brezden now at 805-544-9446 to schedule your home pest inspection!
Have a pest-free Thanksgiving!
John Brezden, Founder
Brezden Pest Control
Corporate Office
3261 South Higuera St, Suite 100
San Luis Obispo, CA 93401
Phone: 805-544-9446
Fax: (805) 544-2807
Email: web@brezdenpest.com
https://www.brezdenpest.com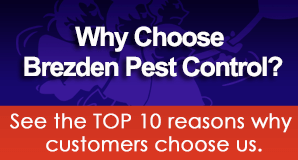 About Brezden Pest Control: Brezden Pest Control provides professional ant control, bird control, rat control, gopher control, pest inspection, dead animal removal, and termite control services in San Luis Obispo, Paso Robles, Shandon, Cayucos, Morro Bay, Templeton, Atascadero, Santa Margarita, Avila Beach, Pismo Beach, Cambria, San Miguel, San Ardo, Whitley Gardens, Los Alamos, Santa Ynez, Solvang, and Los Olivos. Visit the website at https://www.brezdenpest.com to download a complimentary copy of the "Top 10 Reasons Customers Choose Brezden Pest Control." "Like" the Facebook page to receive helpful information on local pest control. Call 805-544-9446 today for a pest control estimate.