Dear Readers,
Did you know that the average queen termite can lay approximately 1 egg every 15 seconds? That's 291 eggs every hour!? Scary, right?
Ants are termites' main competition and predators. Occasionally, termite and ant colonies near each other will even go to war over territory and access to food. These "wars" consist of organized invasions upon colonies conducted by both species' respective soldier castes.
Some species of termite build their colonies upward, creating building-like dirt mounds. While rare, some termite colonies have been recorded to measure over 30 feet high!
Each year, termites inflict more than 5 billion dollars worth of property damage.
Termite Awareness Week happens every year from March 11th through 17th.
Here are five things you can do today to help prevent termites from taking over your property.
Properly store wood piles. Termites are attracted to wood, as we all know. Make sure to store your wood piles at least 20 feet away from the sides of your home and try and store wood at least 5 inches off the ground.
Get rid of dead wood. Old stumps and dead trees are a buffet for termites, so you make sure and get them removed promptly. If you are in need of tree removal services, contact our good friends at KD Janni Landscaping!
Minimize use of mulch. Mulch can help your home look great, but it also looks great to termites. Make sure that when placing mulch you keep it 15 or more inches away from your foundations, and use the least amount possible.
Reduce moisture around your home. Check your home for leaky pipes, pools of water in your basement, roof and foundation. You can also check your HVAC systems for leaks or drips.
Schedule an annual termite inspection. Having a professional come out to check your home often will help you find signs of termites as soon as they appear.
If you have found signs of termite infestation in your San Luis Obispo home or business, or have any other pest control needs, please do not hesitate to call us at 805-544-9446
If you are a existing customer and would like to leave us a review, or recommend us to your friends and family, please do so here.
Oh by the way, did you cast your vote yet? How much do you love Brezden Pest Control? Vote by 3/11/19 in the BEST OF SLO COUNTY READERS POLL: https://www.newtimesslo.com/sanluisobispo/BestOf
Have a wonderful March and maybe we'll see you at the SLO Film Festival!
Don't forget to take advantage of our special offer during Termite Week.
John Brezden, Founder
Brezden Pest Control
Corporate Office
3261 South Higuera St, Suite 100
San Luis Obispo, CA 93401
Phone: 805-544-9446
Fax: (805) 544-2807
Email: web@brezdenpest.com
https://www.brezdenpest.com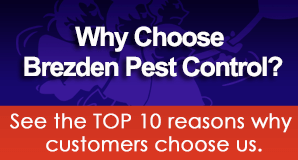 About Brezden Pest Control: Brezden Pest Control provides professional ant control, bird control, rat control, gopher control, pest inspection, dead animal removal, and termite control services in San Luis Obispo, Paso Robles, Shandon, Cayucos, Morro Bay, Templeton, Atascadero, Santa Margarita, Avila Beach, Pismo Beach, Cambria, San Miguel, San Ardo, Whitley Gardens, Los Alamos, Santa Ynez, Solvang, and Los Olivos. Visit the website at https://www.brezdenpest.com to download a complimentary copy of the "Top 10 Reasons Customers Choose Brezden Pest Control." "Like" the Facebook page to receive helpful information on local pest control. Call 805-544-9446 today for a pest control estimate.